BR 21T Coal Wagon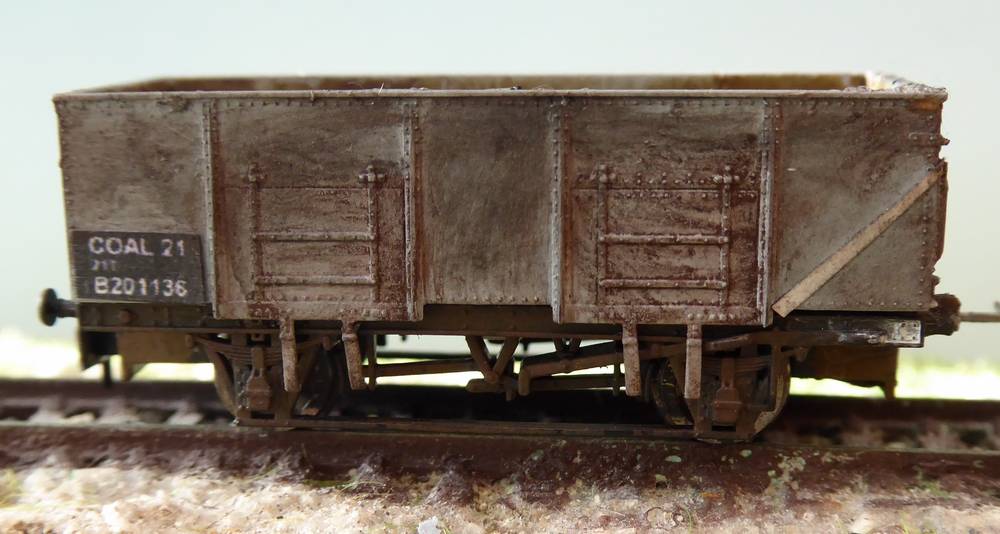 This model uses the unpainted Dapol large steel mineral wagon (ref.1) which is available at reasonable cost. Dapol lists this as a 20T wagon which is surprising as their painted and weathered version has a data panel which clearly shows "21T". It has good detail and I thought it would be a useful addition to my coal wagon stock.
Unlike Dapol's hopper wagons, these wagons do not come with a coal load. My procedure for painting and detailing largely follows that used previously for Peco 16T coal wagons and the Dapol hopper Wagons.
Painting and detailing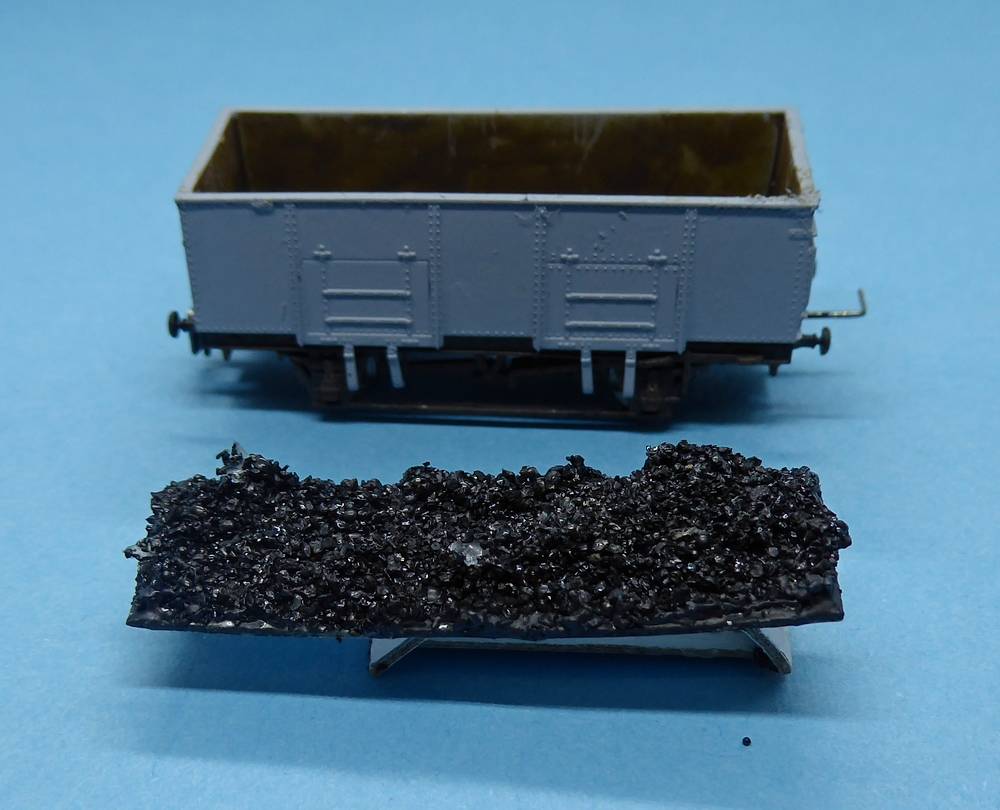 The Rapido couplers were converted to the magnetic couplers that I use on my stock. The coupler on one end was cut back and a 2 x 0.5 mm disc magnet superglued on the T-bar (see Ref.4). The other coupler was removed and a steel 10 mm staple fixed in the coupling box with black Milliput. Stability of the bar was ensured with a drop of superglue where the staple leaves the filler.
The body was sprayed with Wilco grey primer and the underframe painted with Revell Email Color in Anthracite grey matt (This is almost matt black).
The inside of the the wagon and the underframe were painted with a diluted brown earth-like colour (Wilco Java Bean acrylic testpot) to give it a rusty weathered appearance.
The coal load was based on a card base supported about 10mm from the top of the wagon. This was covered in thick PVA and the "coal"(Ref. 3) sprinkled on. I needed two goes to get satisfactory results.
The bodysides needed a white stripe and data plate. The white stripe was a thin strip of sticky white label. The data panel was created in Fastone Image Viewer which has a Draw facility. This was reduced in size for printing on copy paper. The tiny panels (one each side) were stuck onto the body with Klear.
Wagon with white stripe and data panel, before weathering.
Rust spots were added to the body by dry brushing Track Colour in patches on the sides and ends. The black coal dirt was applied by brush as a powder formed by scraping a black soft pastel (Ref. 5) with a knife.

Dapol21T and a Peco 16T coal wagon.
Conclusions
Another grubby coal wagon to add to my stock.
References
Eezy Loads. Supplier of simulated coal for N gauge.
MungYo Soft Pastels for Artists - Earth Tones. Available through eBay and Amazon.
Article dated: 17/11/2019