Erskine Bridge on the Clyde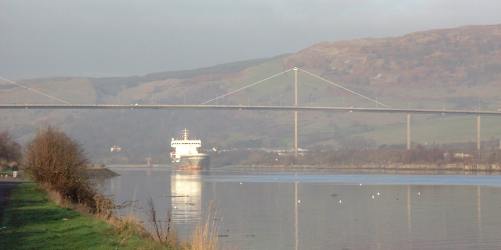 The Erskine Bridge is the last bridge on the Clyde before it reaches its estuary. Less iconic than the Forth and Tay bridges, its lack of visual presence may well be one of its virtues as it does not interfere greatly with a view of the surrounding scenery. It appears as a ribbon of road supported on slender pillars. The central section over the river is suspended from cable stays. The bridge was opened in 1971, originally as a toll bridge but tolls were eventually scrapped on the 31st March 2006.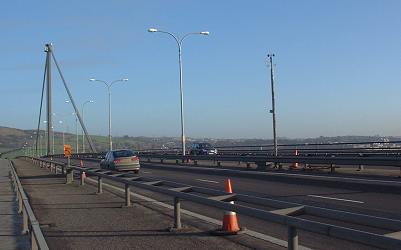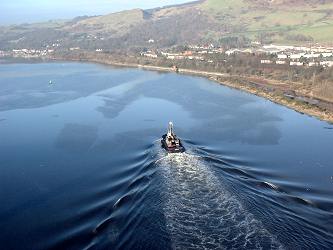 (Above) On the bridge. (Below) View from the bridge looking down river
It provides a link from the M8 on the South side travelling from Glasgow to Gourock over to the A82 on the North side travelling west from Glasgow to Helensburgh, Dumbarton and Loch Lomondside. As the A83 out of Glasgow along the Great Western Road is slow with many traffic lights, the route along the M8 and acros the Erskine Bridge can provide a faster journey to Loch Lomond. However frequent traffic jams around the Kingston Bridge on the M8 can make the motorway route slow as well.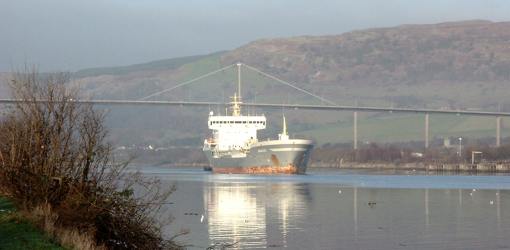 A freighter passing underneath the Erskine Bridge
The nearest inhabitations are Erskine on the South side and Old Kilpatrick on the North side.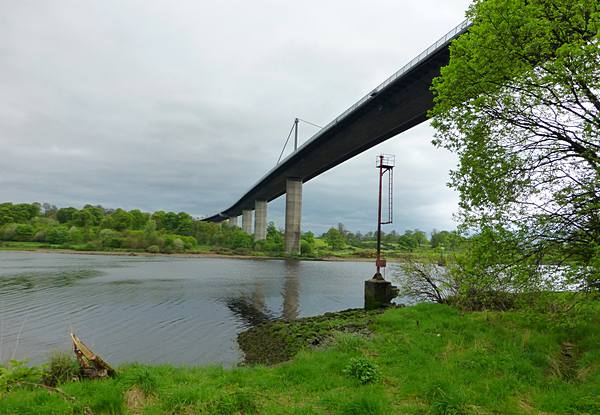 Erskine Bridge from Old Kilpatrick. Photographed 18th May 2013.
Further Information